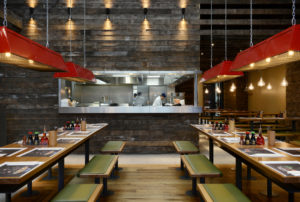 A Lincolnshire couple who spontaneously invested in a burger van after seeing it listed on eBay are celebrating after being confirmed as finalists in the Britain's Best Cafe competition.
Owners Lizzie Baylis and Graham Rowcliffe were delighted when their mobile cafe, Dotty's, won the South West regional awards. The couple will find out in November whether they have won the national title against 13 other regional winners.
Graham, who formerly worked in plant hire, said that they were both delighted and surprised by their nomination. The self-taught couple thanked the support from their customers and staff, who they said always worked with "big and friendly smiles."
Great food and service

Dotty was recognised for its excellent fried breakfasts, traditional dishes such as liver and onions, a famous cottage pie made to a family recipe, and an array of daily fresh cakes and bakes. Fresh cakes, muffins and pies are laid out daily on a display counter like the ones found at https://www.fridgefreezerdirect.co.uk/serve-over-counters.
The judges recognised the cafe for its customer service and its safe and excellent food. Graham said that the secret to their success was using home-cooked food in hearty portions and sales at reasonable prices.
Until ten years ago, neither owner had experienced life in a professional kitchen, and they bought the original burger van on a whim whilst perusing eBay listings on holiday.
Traditional cafes can succeed

The success of the mobile cafe is particularly heartening for the couple, who focus on the old-fashioned approach of home-made cooking, face-to-face service and the personal touch that comes with meeting customers daily and preparing fresh food that they know people will enjoy. They have yet to invest in any of the digital technologies that larger businesses are using for mobile orders and other expedited services but find that their approach still suits many.
The winners of the national competition will be announced on November 9th, and Dotty's cafe owners say that they remain hopeful about their chances and very thankful for the help and support that they have received so far.
The success of Dotty's demonstrates nicely that traditional cafes can be recognised and experience real success – even when the owners don't have professional catering backgrounds – if the service is excellent, the food is of great quality and the pricing is fair.