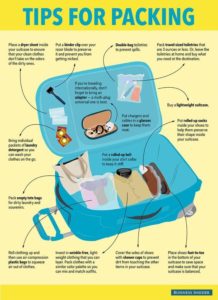 If you work in an office then the chances are that you dream about nothing more than jet-setting away from the stress each weekend before returning to work the next week a completely refreshed and new person. And while a number of the emails which come through your inbox each day can promise you just that, it's likely that you balk at the idea, simply because the deals don't allow you to take checked baggage.
If this sounds like you, then it's time to change your way of thinking and get out and see the world! Below are some tips to help you pack a weekend worth of items into a single carry-on sized bag.
Realize What You Can Actually Take
The first thing to remember is that the term carry-on only really means two bags. It means a carry-on sized bag along with a personal item.
For your carry-on, look through your storage for a bag that reaches, but does not exceed 18 inches in height, 13 inches wide, with a depth of 9 inches, weighing no more than 17 pounds. While airlines will have their own restrictions, this is the general size to satisfy the majority of requirements.
When it comes to your personal items, this can be something as big as a backpack or as small as a handbag. What it does mean, is that you have a second option to store more travel items.
What to Pack
Choice! Choice! Choice! That is what you will want to have when you arrive at your weekend destination, however, it simply not necessary. Instead, stick with the following:
A pair of jeans
A pair of dress pants or slacks
3 t-shirts or blouses
2 bathing suits
A pair of heavy duty shoes
6 pairs of socks
6 pairs of underwear
That's it! No more! But before you claim that this simply isn't enough, remember that you will be wearing an entire outfit on the plane and throughout your journey, so if you have any bulky items you want to bring, wearing them would be your best option.
Personal Effects
Despite what you might think, you aren't going to find Mr or Mrs perfect while you are away, simply because you will just be laying on a beach or walking through forests with your time. For this reason, be realistic about what toiletries you need to take, remembering limits on what you can bring.
Consider just the following items:
Your toothbrush
Toothpaste
Deodorant
Lipbalm
Sunscreen
Foundation
Moisturizer
That's it. Those are the basics needed to keep you fresh and comfortable, and within the limit for allowable items to take with you on the plane.
There you have it! By following these simple, yet strict rules and guides, you can easily pack what you need for a weekend away into a carry-on sized bag and start taking advantage of the Groupon Coupons page for Apple Vacations and return to work a new person!